Please Note: The affiliate information and links provided on this page are specific to Clickbank only.
Dear Reseller,
Now you can get 70% commissions on sales of "How I Got 1 Out of Every 102 English Speaking Internet Users In the World to Visit My Web Sites!" through the Clickbank affiliate program.
All you need to get started is to click the link below. That takes you to a form where you enter your Clickbank ID. If you don't have one, then you will find a link to sign up at the bottom of the page.
If you don't have one then follow the on-screen instructions to sign up for Clickbank. It takes less than a minute and as soon as you're done you'll have your ID.
Then return to this page, click the link again and type your ID into the form and you'll get the reseller URL to use right on the spot!
The commission is 70% of the product price of $39.95, which means that you get $27.96 PER sale.
HERE'S AN EMAIL YOU CAN SEND TO YOUR LIST RIGHT NOW:
To use this email promotion just copy it from here, paste it into a text editor, replace the content listed in CAPITAL LETTERS (today's date, your name, etc) then ADD YOUR CLICBANK NICKNAME where it says "AFFILIATE"
From there just paste it into your autoresponder, test it then click send.
Subject: New! Exactly How I Got 2.8 Million Visitors (Step-By-Step)
Date: (INSERT TODAYS DATE HERE)
From: (INSERT YOUR NAME HERE)
Hello,
Go anywhere in the world.
Find 102 people who surf the 'net in English.
One of them has been to Marlon Sanders' web sites.
(Add that up and it's 2.8 million true unique visitors.)
Think about this... Go out on a busy street anywhere in
your City. 1 out of every 102 people you see there will
have been to one of Marlon's web sites -- and you can
do the same thing anywhere in the world, as long as
you're looking at people who surf the 'net in English.
What do you care?
Because first Marlon's going to PROVE it to you.
Second, he's going to show you step-by-step in detail,
exactly, specifically how he did it.
No smoke and mirrors.
Everything is revealed.
No one has ever done this before. No one has revealed
everything.
If you want to get more visitors to your web site, check
this out now.
It's definitely not the "same old, same old."
Here's the URL: http://AFFILIATE.marlonsand.hop.clickbank.net
Best Wishes,
(INSERT YOUR NAME HERE)

About 30 minutes after we sent the email to our list announcing the new product, here's what happened to our traffic, as displayed through our Live Chat program: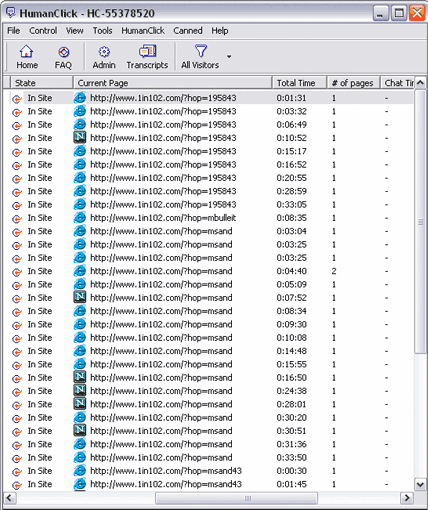 Of course the page down much further than what you can see in the screen cap.
Best Wishes,
Marlon Sanders

P.S. Click here if you prefer to promote the product through our REGULAR affiliate program.
HOW TO "CLOAK" YOUR CLICKBANK HOPLINK...
QUESTION: I don't want the customers I refer to see my full hoplink url. What is the easiest way to "cloak" my hoplinks?
ANSWER: The secret is to send the customer to a url of your own that quietly redirects them through the correct hoplink.
We recommend using the html below. Don't forget to replace each occurrence of AFFILIATEwith the correct value!
HopLink Cloaker HTML:
Copy the code below, then replace "AFFILIATE" shown in red bold fonts with your Clickbank nickname!
<html>
<head>
<title>Loading page...</title>
<meta http-equiv="refresh" content="2;URL=http://AFFILIATE.marlonsand.hop.clickbank.net">
<script>
AFFILIATE.marlonsand.hop.clickbank.net';
if(document.images) { top.location.replace(url); }
else { top.location.href=url; }
</script>
</head>
<body>Loading
<a href=http://AFFILIATE.marlonsand.hop.clickbank.net>page</a>...
</body>
</html>
Best Wishes,
Marlon Sanders